De challenge
Put voor je song inspiratie uit een van de drie kunstwerken hieronder en maak er je eigen impressie van in de vorm van een song. Hou je verder aan onderstaande regels:
Je lied heeft een duidelijk herkenbare melodie die meerdere keren terugkomt.
Het moet een lied zijn met tekst en instrumentale begeleiding.
Bezorg ons een audiotrack van maximaal 4 minuten.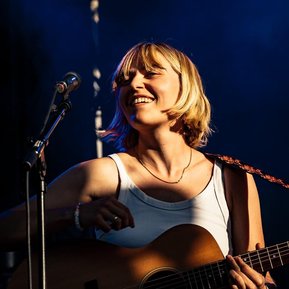 Catherine Smet (BLUAI)
won 's lands meest prestigieuze muziekwedstrijden alledrie (!) en weet dus als geen ander hoe je een goeie song schrijft!
Simon
bloedeerlijke artiest die met 'Geen Spijt' zijn nieuwste single dropte. Met zijn scherpe teksten is hij de ideale coach voor Mystic Kids!
Wat kan je winnen?
De coaches bekronen hun favoriete inzending met een budget van €1000 om jouw toekomstig project te verwezenlijken. Win jij? Dan kies je zelf wat het project precies zal inhouden, in lijn met de categorie waarin je won. Samen met Trix maak je vervolgens een plan om dit uit te werken.
Feedbacksessie?
Bij inschrijving kan je aanduiden of je een feedbacksessie wil met de coaches. Een feedbacksessie duurt 15 minuten en vindt plaats in Trix.
Je kan een feedbacksessie boeken op zaterdag 12 november of op zaterdag 19 november, in de namiddag. Je krijgt op 7 november het exacte tijdslot te weten wanneer je verwacht wordt.
Meedoen?

Inschrijven kon tot 6 november. De inschrijvingen voor dit jaar zijn helaas afgelopen.